The 2013 WQA/Aquatech Water Opportunity Show opens on April 2nd 2013 and runs through April 5th 2013.
You can view their nifty new program guide here:
http://digital.turn-page.com/t/13207
Lots of educational and entertaining events are scheduled that should appeal to all tastes and education levels. I'll be involved with the service training class on Wednesday in Rm 130 as well as moderating a few other lectures and panel discussions.
Be sure to visit us in the Pentair booth to see the Hybrid DI and 5800XTR2!
If you're a WQA member, be sure to take advantage of the testing opportunities, we need more Certified Water Specialists.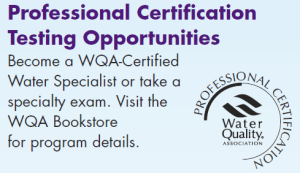 WQA Aquatech USA is the only venue representing every segment of the increasingly complex and dynamic water treatment and supply market. This comprehensive water quality forum will provide you with the latest information, tools, resources, and strategies you need to build your business.
WQA Aquatech USA attracts multiple water industry groups including process, drinking water, and ultrapure for residential, commercial, and industrial users. WQA Aquatech USA is a one-stop event that connects technologies, know-how, education, training, networking, and business opportunities to multiple water industries.  It's where your industry and your association brings together – in one place – essential people, new ideas, and innovative technology. It is the most cost effective way to develop relationships, learn about equipment and devices, and pick up business tips. Don't miss this once-a-year opportunity to connect with your industry.
    Conference:    Tuesday, April 2 – Friday, April 5 , 2013
    Exhibition:      Wednesday, April 3 – Thursday, April 4, 2013
    Location:        Indiana Convention Center, Indianapolis, Indiana USA