The WQA Convention & Exposition is an all-encompassing event connecting the drinking water treatment industry's technologies, know-how, education, training, networking and business opportunities with industry professionals in one convenient and cost-effective location.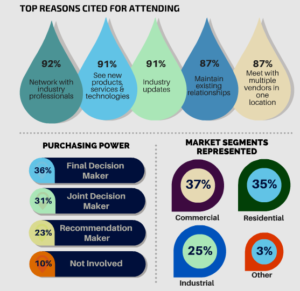 This year's convention will be at the Orange County Convention Center in Orlando, Florida from March 28-31 2017.
Click
here
to download the WQA Convention & Exposition Exhibitor Prospectus!
Registration & Housing Now Open!
Hotel Reservations 

Room reservations within the WQA housing block are now being accepted. All room reservation requests require a credit card guarantee.

Beware – Your Hotel ReservationMay Be in Jeopardy

Attendees, please be advised of unofficial solicitations which may target you.  For your own protection, do not accept phone calls from any housing company claiming to be associated with the WQA Convention & Exposition.Experient will never call you directly. Experient is the only housing partner for the 2017 WQA Convention & Exposition. Please DO NOT provide your credit card to any company requesting/demanding full payment for a reservation.  Please be aware of, and report, any unauthorized housing solicitations to WQA.

First Time Attendee/New Member Breakfast


 

 

If you are new to WQA or attending the WQA Convention & Exposition for the first time, we welcome and encourage you to attend this breakfast.  We want to make certain you take full advantage of the Convention and learn about the resources and opportunities for education, networking, navigating the trade show floor and making the best use of your time. You will meet members of the WQA Membership Committee, Events Committee and the Board, who will be there to greet you and answer any questions you may have about WQA.  This is the perfect event for anyone looking to maximize time at the Convention and learn how to make with connections with the other 3,000 attendees.

There is no charge to attend.  You may register for the breakfast during the Convention registration process. Click 

here

to register.

5K Fun Run/Walk  


 

Thursday, March 30

6:30 a.m.

New this year! Join your fellow attendees and exhibitors at a walk/run benefitting the Water Quality Research Foundation.

You may register for the 5K Fun Run/Walk and pay the $25 entry fee during the registration process.

The race will start/end in front of the Hyatt Regency Orlando.

 

Convention Website

Conference Dates


Exposition Dates/Hours


Location


Orange County Convention Center

Organized by

Water Quality Association

4151 Naperville Road

Lisle, Illinois 60532